TOUR OPERATOR
Sermilik Adventures
Photo: Filip Gielda – Visit East Greenland
In the heart of East Greenland's majestic landscape, where towering mountains meet oceans teeming with ice, Sermilik Adventures awaits to sweep you off into an adventure laced with the scent of clean, crisp air. Whether your fantasy leans towards spending a night in a cozy igloo, or exploring the quintessence of local culture in the well-loved settlement of Tiilerilaaq, your hosts, Line and Tobias, are primed to guide you through this Arctic wonderland.
Photo: Visit East Greenland
Photo: Aningaaq Rosing Carlsen – Visit Greenland
Photo: Aningaaq Rosing Carlsen – Visit Greenland
Tobias, a hunter renowned not only regionally but throughout Greenland, has his roots deeply planted in the Ammassalik region. His youth, imprinted with the rhythm of seasonal migration and the pursuit of game, has imbued him with an intimate knowledge of the best spots this region has to offer. Now, you have the unique opportunity to journey with him, navigating the breathtaking terrains that he once roamed as a young hunter. Accompanying Tobias is Line, the nurturing spirit behind Sermilik Adventures. Captivated by the region's breathtaking beauty, which she lovingly refers to as 'Arctic Paradise', Line ensures that every guest is well cared for throughout their stay. Whether you're setting out on a dog sled adventure, camping under the star-lit skies, or immersing yourself in the humble lifestyle of a settlement, Line ensures you're well-nourished and comfortable.
What sets Sermilik Adventures apart is their emphasis on flexibility. There's no rush here; this is your journey to curate and your moments to live fully. Absorb the wonder of each day, be present, and immerse yourself in the grandeur of East Greenland. With Sermilik Adventures, you're not just stepping into an itinerary, but rather, you're sinking into an experience, making it wholly your own, in sync with the heartbeat of the Arctic landscape.
Activities by Sermilik Adventures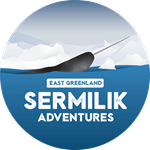 Articles
Discover more about the enchanting East Greenland through our curated articles.
East Greenland: A Symphony of Contrasts
East Greenland is a land of stark contrasts. Summer's midnight sun gives way to winter's northern lights. Land, water, and air offer vastly different experiences. Step into the old world charm of Inuit culture amid the challenges of the Arctic environment.
Photo: Norris Niman – Visit Greenland
Tools for the Fearless
Equip yourself with knowledge and gear for your daring journey into East Greenland's raw wilderness.