Photo: Norris Niman – Visit Greenland
Venturing into the Heart of East Greenland's Majesty – Pirhuk, led by Helen and Matt Spenceley, is a revered name among the mountain guides of Greenland, particularly revered for their specialization in thrilling ski touring, mountaineering, and trekking adventures in Arctic East Greenland. Situated in the rustic beauty of Kulusuk, Pirhuk carries the baton of exploration and discovery into the region's majestic mountains, tranquil fjords, and imposing glaciers.
Photo: Mads Pihl – Visit Greenland
Photo: Norris Niman – Vist Greenland
Photo: Filip Gielda – Visit East Greenland
The strength of Pirhuk lies in the harmonious synergy of over two decades of experience, a team of highly skilled mountain guides, and the invaluable partnership with local inhabitants. This potent combination seeds a unique passion for the myriad wonders of East Greenland's landscapes, leading to an inimitable experience for those daring to venture into these territories. The journey begins at their comfortable lodge in Kulusuk, the springboard into a world of unforgettable adventures. Whether it's classic backcountry tours, the adrenaline rush of steep skiing and pioneering descents, or the call of mountaineering and trekking, Pirhuk caters to the adventurous spirit in myriad forms.
The allure of Pirhuk is not merely the variety of adventures they offer, but the depth of the experience they provide. The team's fervor for the mountains and glaciers of East Greenland, honed over numerous seasons spent in the Greenlandic landscapes, merges with an intrinsic understanding of the region's unique dynamics. The intricate interplay of ocean currents, snowpack, ice, migratory animals, and weather patterns forms a tapestry of knowledge that transforms your journey into a profound immersion in local life and the raw splendor of this enigmatic land. With Pirhuk, your foray into East Greenland transcends a mere adventure, metamorphosing into a saga of discovery, exhilaration, and awe.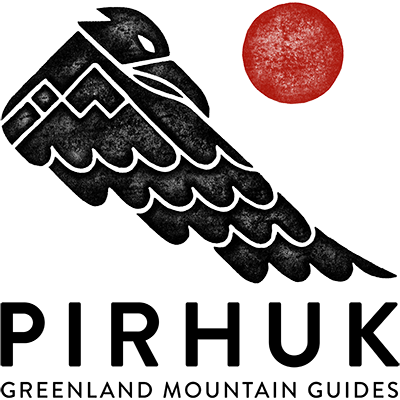 Articles
Discover more about the enchanting East Greenland through our curated articles.
East Greenland: A Symphony of Contrasts
East Greenland is a land of stark contrasts. Summer's midnight sun gives way to winter's northern lights. Land, water, and air offer vastly different experiences. Step into the old world charm of Inuit culture amid the challenges of the Arctic environment.
Photo: Norris Niman – Visit Greenland
Tools for the Fearless
Equip yourself with knowledge and gear for your daring journey into East Greenland's raw wilderness.