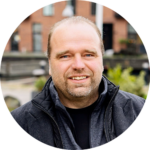 Lars Anker, the visionary behind Arctic Dream, curates exceptional explorations into East Greenland. Originally from Denmark, his fascination with the Arctic's raw beauty led him to East Greenland two decades ago. With varied roles from dog-sledding to hunting, Lars acquired an intimate knowledge of the Arctic's ecology and culture.
Arctic Dream, Lars' venture, harmoniously blends his love for adventure and the vibrant hunting traditions of East Greenland. His deep connections with the locals infuse his trips with a blend of thrill and cultural immersion. Today, Lars continues to share East Greenland's rugged charm with like-minded adventurers seeking to experience the untouched and extraordinary.
Created by Lars Anker Møller from Arctic Dream, this immersive 7-day itinerary covers the highlights of summer in East Greenland. Ice caves, glaciers, gigantic icebergs, settlements, and cultural experiences are all on the agenda. So, let's dive into this captivating journey:
Day 1: Arrival and Exploration of Kulusuk
Accommodation: Kulusuk Hotel
Meals: Dinner
Your East Greenland adventure commences upon your arrival at Kulusuk airport. You'll be welcomed by the Kulusuk Hotel's staff and escorted by car to your temporary abode. At 2 pm, our guide will collect you for an insightful tour around Kulusuk settlement. As you wander through the streets, you'll experience a way of life that remains closely tied to nature and tradition. Back at the hotel, a satisfying dinner awaits at 6 pm.
Day 2: Journey into the Ice Cave
Accommodation: Arctic Dream
Meals: Breakfast, Lunch, Dinner
After breakfast, we'll rendezvous at the airport harbour, where a boat will whisk us to the face of a majestic glacier. You'll then embark on a thrilling expedition into a 40m deep ice cave, led by an expert glacier guide. The radiant blue-green hues of the cave are a sight to behold. After exploring, we'll return to Tasiilaq, where our local cook will serve up a heart-warming dinner.
Day 3: Knud Rasmussen Glacier and Ikateq Exploration
Accommodation: Arctic Dream
Meals: Breakfast, Lunch, Dinner
From the pier, we'll embark on a boat tour of Ammassalik fjord, keeping an eye out for whales along the way. The journey leads us to the deserted American base at Ikateq, and the striking Knud Rasmussen Glacier. The glacier is known for producing awe-inspiring blue ice – a rare spectacle. After a restful lunch at the glacier's front, we'll head back to Tasiilaq for a delicious dinner prepared by our local cook.
Day 4: Icefjord and the Settlement of Tiilerilaaq
Accommodation: Arctic Dream
Meals: Breakfast, Lunch, Dinner
Today's adventure takes us around Ammassalik fjord to the settlement of Tiilerilaaq, with a pit stop at an Inuit winter home. In Tiilerilaaq, we'll picnic next to the impressive icefjord and explore the settlement. The tour then continues through the icefjord, a surreal landscape studded with towering icebergs.
Day 5: A Step Back in Time
Meals: Breakfast, Lunch, Dinner
On your fifth day, you have the morning to relax and enjoy Tasiilaq at your own pace. Later, we'll meet for a guided tour of the local museum. Here, you'll delve deeper into the history and culture of East Greenland.
Day 6 & 7: Tailored Adventures
Accommodation: Arctic Dream
Meals: Breakfast, Lunch, Dinner
Days six and seven offer a selection of optional activities. Choose from fishing, whale watching, or exploring the icecap. Whatever you choose, these two days promise unforgettable experiences tailored to your interests.
As your East Greenland adventure draws to a close, we'll transfer you back to Kulusuk for your return flight at 8 am, carrying with you the memory of an extraordinary journey through a mesmerising landscape.
Arctic Dream: Embracing the Heart of East Greenland

With a deep understanding of East Greenland's culture and landscapes, Lars Anker-Møller founded Arctic Dream, offering authentic adventures into this untouched region. A Denmark native, Lars became an integral part of Tasiilaq's hunting community, encapsulating its stunning scenery and customs in photobooks. Arctic Dream, born from Lars' experiences, offers a gateway to East Greenland's natural splendors and rich culture, coupled with local culinary delights. Lars' emphasis on safety, community upliftment, and continuous learning permeates every expedition. With proficiency in multiple languages, Lars ensures every Arctic Dream journey is secure, educational, and profoundly transformative.