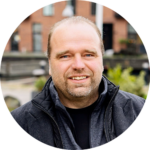 Lars Anker is the owner of Arctic Dream, a company dedicated to crafting immersive, authentic travel experiences in East Greenland. Born and raised in Denmark, Lars has been drawn to the harsh beauty and raw, untouched wilderness of the Arctic since his early days. Following a passion for exploration and adventure, he moved to East Greenland 22 years ago and has since worn many hats – a dog-sledder, a philatelist, a hunter, and a fisherman, to name a few. His journey of over two decades in East Greenland, during which he spent three years living in the remote village of Kuummiut, has provided him with a profound understanding of the Arctic environment and its culture.
Through his company, Lars combines his passion for adventure with a deep respect for the rich hunting culture of East Greenland. His travels and experiences have fostered friendships with the locals, making his trips a unique blend of adventure and cultural immersion. Today, Lars continues to open up this ruggedly beautiful corner of the world to those who share his love for the extraordinary, the pristine, and the secluded.
Exploring the Arctic: A Week in East Greenland
If the idea of discovering untouched landscapes, experiencing a unique culture, and adventuring into the wild excites you, join my team of local mushers, who are excited to show you parts of their culture and everyday life, on a 7-day itinerary through the heart of East Greenland. Having spent over two decades in this Arctic wonderland, I'm eager to share the enthralling experiences that this remarkable place has to offer. From the exhilaration of dog sledding to the tranquility of snowshoeing, each day presents an opportunity to engage with the mighty elements of East Greenland. So, let's embark on an Arctic journey that you'll treasure for a lifetime. With their welcoming smile, the mushers will make sure that on this trip you will get to be part of their everyday life, even if little English is spoken, a lot can be demonstrated beyond words.
Day 1: Arrival and Acclimation
Your journey to East Greenland begins with your arrival at the local heliport, where you will be warmly greeted and escorted to a charming house, our home for the night. This welcoming accommodation boasts six bedrooms and two bathrooms with toilets, promising comfort after your long journey. The rest of the day is yours to settle in, rest, and soak in the serenity that our abode exudes.
As the day gradually transitions into evening, at 6 p.m., you will be treated to a locally sourced meal prepared by our private cook. Relish the taste of authentic East Greenlandic cuisine, crafted meticulously using fresh local produce. Post dinner, we will brief you on the upcoming adventure, ensuring all equipment is understood and correctly fitted. We provide the option to rent essential gear like boots, suits, and sleeping bags, making sure you're well-prepared for the forthcoming days.
Day 2: Embracing the Pristine: Dog Sledding
The morning unfolds with a breakfast that allows you to assemble your lunch pack, offering a simple yet hearty start to the day. By 10 a.m., we descend to meet our sled drivers. Partnered two per sled, we embark on a thrilling journey across fjords, mountains, and lakes. The destination? The first stop, Kaffebar, a welcoming refuge where you can enjoy your packed lunch and a warm drink.
Post this respite, our expedition continues across the landscape, all the way to Icecamp, which nestles comfortably by the fjord. Comprising five cozy, generator-powered cabins, it offers the comforts of a warm shelter in the heart of this majestic icy wilderness. On arrival, take a moment to embrace the deafening silence that engulfs the camp and let your gaze wander across the captivating views.
Day 3: Into the Vastness: Snowshoeing
Our third day dawns with a breakfast spread consisting of warm porridge, smoked reindeer ham, muskox salami, various cheeses, chocolate, an assortment of biscuits, cake, and hot beverages. Once our bellies are full, we get our snowshoes ready, preparing for an exhilarating hike into the mountains. One of our experienced sled drivers will lead us to breathtaking views of the inland ice and the ice-filled fjord.
Returning to the camp for lunch, we devote the afternoon to checking seal nets and spending quality time with the sled drivers on the icy plains. Dinner that night is a delicious serving of muskox meat, perfectly complemented by spaghetti.
Day 4: Journey Continues: Dog Sledding to Tiilerilaaq
Our day begins with a hearty breakfast before we embark on another exciting dog sledding adventure. With our luggage taken care of by snowmobiles, we venture across fjords dotted with grand icebergs and valleys snaking over glaciers. Our destination is Tiilerilaaq, a small village of 70 residents, where we will be welcomed into a renovated house by one of our sled drivers, Egon.
The route varies every year, as snow and ice dictate our passage. Upon arrival, if conditions permit, you have the option of partaking in a short sailing trip with a local hunter, offering a unique glimpse into local life. Our dinner tonight will be hosted by a local family, immersing us deeper into the Greenlandic culture.
Day 5: Embracing the Elements: Dog Sledding
Our expedition resumes post breakfast, as we select the safest route from the two options based on current snow and ice conditions. The journey takes us through grand valleys with towering glaciers on either side, over fjords, and up and down mountains. We are but tiny specks in the grandeur of East Greenland. Here, the rhythm of nature dictates our path, and we trust in our local hunters, seasoned navigators of this stark landscape. As the day wears on, a quaint green cabin, Imaqa Hytte, emerges on a small promontory, offering vistas of a vast fjord. The rest of the day is spent leisurely around the cabin, taking in the views, and perhaps observing locals from Tasiilaq fishing for halibut and redfish in the 500m deep fjord. Dinner tonight is a comforting muskox ragout paired with mashed potatoes.
Day 6: Home Stretch: Dog Sledding to Tasiilaq
Day six dawns with the promise of another exhilarating dog sled journey. Following breakfast, we pack up, ready to climb 700m up a glacier before descending onto a lake, leading us back to Tasiilaq. As we make this last leg of our sled journey, the vibrant-coloured houses of Tasiilaq begin to dot the horizon around 2 to 3 p.m. A chauffeur meets us on the fjord and transports us back to our house in Tasiilaq, where a delightful bath and a warm bed await. As we gather for dinner, a spread of salmon, rice, and vegetables, our sled drivers join us, marking a poignant farewell to these stalwart companions.
Day 7: Tasiilaq: The Cultural Capital of East Greenland
Our final day begins at a leisurely pace with breakfast at the house. The morning is free for exploring Tasiilaq at your own pace. By 1 p.m., we assemble at the old museum, where we delve into the history and the current state of the local hunting culture. This immersive experience also includes visits to a souvenir shop and an art workshop, giving you an opportunity to carry home memories of this unique journey.
Post breakfast the next day, we bid farewell to the enchanting Tasiilaq. As we head towards the heliport, we part ways with the promise of reunions on other trails and other journeys, cherishing the Arctic adventure that was.

Arctic Dream, led by founder Lars Anker-Møller, is an expedition into the untouched heart of East Greenland. Born in Denmark, Lars' life took a transformative turn when he became a licensed hunter in Tasiilaq, immersing himself in the age-old practices of native hunters. His journey became the subject of two photobooks, making him a visual ambassador of East Greenland's landscapes and culture.
Arctic Dream, Lars' brainchild, promises to transport you to this unique world, offering unforgettable experiences in East Greenland. From savouring local cuisine, and witnessing breathtaking natural beauty, to becoming part of an ancient culture, Arctic Dream is your passport to an immersive journey.
Beyond unique experiences, Arctic Dream is Lars' way of nurturing his adopted community, providing local employment, and facilitating continuous learning. Safety is a cornerstone of Arctic Dream's operations, with regular training in safety procedures for Lars and his team.
With over 20 years of East Greenlandic experience, and fluency in Danish, German, and English, Lars ensures each Arctic Dream expedition is a deeply engaging, safe, and transformative adventure.